My dream dining room (or breakfast nook): Danish modern.  White china and a few bright accents.
The bones of this look are the 
Eames® Molded Plastic Chairs
in white (a whopping $265 each!)  and a warm mahogany wooden table.  Overstock.com has replica chairs in black and white, 
2 for $165
.  When I finally get my first place I will definitely be getting these.  Can you really tell the difference?  I'm sure the lighting on the Overstock photos are misleading.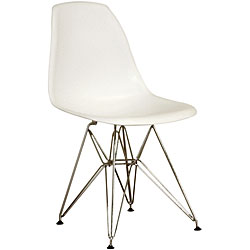 Eames on DWR   vs.  Ronnie on Overstock
Dishes used for eating will be modern and in white for a pure, crisp, and clean look.  I love white dishes with the exception of my teacups and a few Japanese  condiment dishes.  White sets off the colors of the food very nicely.
If I get some dish storage I plan to hang up some artwork and display a few vinyl figures just for the fun of it.   Cliché food pictures are not allowed in the kitchen!  I will allow text or unique interpretations though.
Eggy Dunny at Kidrobot – Sold out
Window shopping for decor makes me want to save up even more than normal.  Hooray for budget dieting!
-E&I