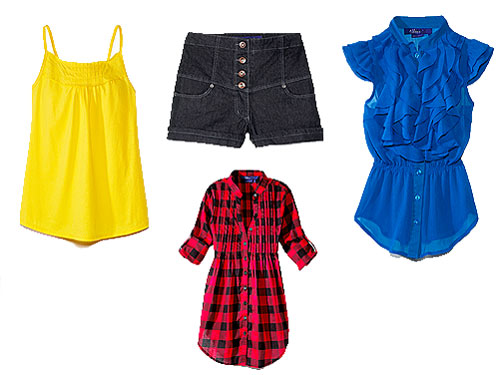 I was at Walmart last week doing some errands and was pleasantly surprised to come across the new Miley Cyrus & Max Azria for Walmart collaboration.  I'm definitely past my teen years but I must admit that the clothes are pretty cute.  A little unoriginal and Forever 21-ish?  Perhaps.  Even so, I think this line will do very well for back-to-schoolers.
The quality?  Well, as expected for Walmart.  At $7 per tank and tops for $12 each you can't anticipate these pieces lasting too long.
I was thinking about getting this top in white for $8 ; a v-neck waffle tee with alternating opaque and burnout stripes…  But I decided to pass.   The burnout stripes were appealing but the cotton-polyester blend is a bit scratchy.
Colored skinny jeans for $20?  Nein.  You can find better elsewhere.   Liquid leggings for $10?  The timing is a little late on this trend but I think this may just be the cheapest liquid leggings out there besides Target.
Rating: 3.5 Stars
The Verdict? Not terrible for a tween design collabo.  It seems as if the Max Azria headline was only added in as incentive.   Rehashed trends from last year?  Sure.  A bit generic, but I'm guessing that will make it more appealing to the masses.   If you havn't dipped your toes into these trends yet and you're tired of digging through Forever 21's hot mess, then why not try it out?
Have fun!
-E&I